Hi, guys.  Currently, I am reading Frozen Prospects by Dean Murray.  There is a good possibility for a review tomorrow…
Today, however, I want to tell you guys a bit more about some new releases I've found, so here goes…
---
Wendy doesn't remember anything about Neverland – or the experiments that were done on her there as a child.  Seven years later, all she wants is a normal life, but shape-shifting shadows plague her dreams and turn her life into a waking nightmare.  When the shadows attack at a football game and a boy disappears right in front of her, she realizes these wraith-like shadows are real.  They're not just haunting – they're hunting.
A mysterious boy named Peter, his foul-mouthed sidekick, and a band of misfit boys intervene before Wendy faces a similar fate.  But can they trust Wendy enough to take her to Neverwood Academy and reveal all of their hidden secrets when she's hiding a secret of her own, or will the dreaded Red Skulls find her and drag her back to Neverland?
---
On a planet where violence and vengeance rule, in a galaxy where some are favored by fate, everyone develops a 'currentgift', a unique power meant to shape the future.  While most benefit from their 'currentgifts', Akos and Cyra do not – their gifts make them vulnerable to other's control.  Can they reclaim their gifts, their fates, and their lives, and reset te balance of power in this world?
Cyra is the sister of the brutal tyrant who rules the Shotet people.  Cyra's 'currentgift' gives her pain and power – something her brother exploits, using her to torture his enemies.  But Cyra is much more than just a blade in her brother's hand: she is resilient, quick on her feet, and smarter than he knows.
Akos is from the peace-loving nation of Thuve, and his loyalty to his family is limitless.  Though protected by his unusual 'currentgift', once Akos and his brother are captured by enemy Shotet soldiers, Akos is desperate to get his brother out alive – no matter what the cost.  When Akos is thrust into Cyra's world, the enmity between their countries and families seems insurmountable.  They must decide to help each other to survive – or to destroy one another.
---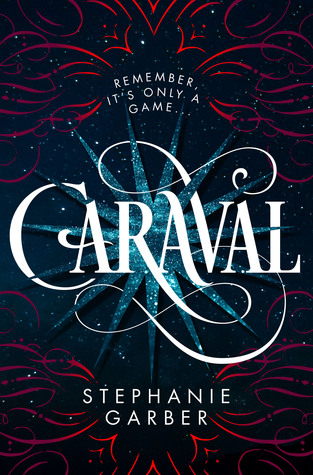 Before you enter the world of Caraval, you must remember that it's all a game…
Scarlett has never left the tiny island where she and her beloved sister, Tella, live with their ruthless father.  Now Scarlett's father has arranged a marriage for her, and Scarlett thinks her dreams of seeing Caraval, the legendary, once-a-year performance where the audience participates in the show, are over.
Then, Scarlett's long-dreamt of invitation to Caraval finally arrives.  So, Tella enlists a mysterious sailor's help to whisk Scarlett away to this year's show.  But as soon as the trio arrives, Tella is kidnapped by Caraval's mastermind organiser, Legend.
Scarlett has been told that everything that happens during Caraval is only an elaborate performance.  But she nonetheless soon becomes enmeshed in a game of love, heartbreak, and magic with her sister, with Legend, and with the other players in the game.  And whether Caraval is real or not, she must find Tella before the five nights of the game are over, and her sister disappears forever.
---
A girl discovers a family secret and a past full of magic that could both save her and put her in mortal danger in this suspensful novel that's perfect for fans of Katie Alender and Natasha Preston.
All sixteen-year-old Heather MacNair wants is to feel normal, to shed the intense paranoia she's worn all year like a scratchy sweater.  After her compulsion to self-harm came to light, Heather was kept under her doctor's watchful eye.  Her family thinks she's better – and there's nothing she wants more than for that to be true.  She still can't believe she's allowed to spend her summer vacation as she always does:  at her aunt's home in Scotland, where she has lots of happy memories.  Far away from all her problems save one:  she can't stop carving the Celtic knot that haunts her dreams into her skin.
Good friends and boys with Scottish accents can cure almost anything… except nightmares.  Heather can't stop dreaming about two sisters from centuries ago, twins Prudence and Primrose, who somehow seems tied to her own life.  Their presence lurks just beneath the surface of her consciousness, sending ripples through what should be a peaceful summer.  The twins might hold the key to putting Heather's soul at rest… or they could slice her future deeper than any knife.
---
These are all for now, will do something like this again soon.  Let me know if you'd like to read any of these books and what lured you to them: the cover/name of the book/name of the author/one liner?
Love Always,
C