Here are a few books releasing this week, that I wanted you to know about…
---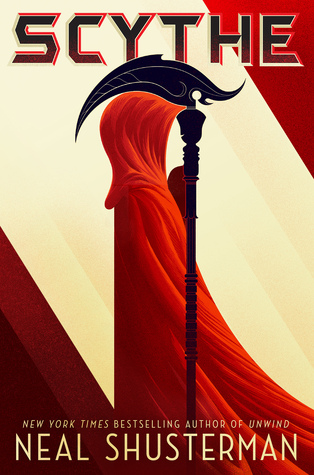 Synopsis:
In a world where disease has been eliminated, the only way to die is to be randomly killed ("gleaned") by professional reapers ("scythes").  Citra and Rowan are teenagers who have been selected to be scythe's apprentices, and – despite wanting nothing to do with the vocation – they must learn the art of killing and come to understand the necessity of what they do.
Only one of them will be chosen as a scythe's apprentice.  And when it becomes clear that the winning apprentice's first task will be to glean the loser, Citra and Rowan are pitted against one another in a fight for their lives.
---
Synopsis:
My career is finally looking up and I'm leading a new pro team down the field every Sunday.  No way will I mess with that.  But when I meet the most stunning and captivating woman I've ever seen, I tell myself one night will have to be enough.
But it's not.  And now I can't get her out of my mind.  Even when I'm playing.  Even when I need to focus.  Even when I'm on the hottest streak of my life.  And it turns out, she's not just som random woman.  She works for the team.  My team.
I only have one goal this season – do my part as the team's lawyer to keep them out of trouble.  Help rebuild their reputation on and off the field.  There's no room for error and certainly no room for a secret tryst with a player… even if he's the quarterback.
Right?
---
Synopsis:
"They think I am still a little girl who is not capable of being a Queen."
Lord Melbourne turned to look at Victoria. "They are mistaken.  I have not known you long, but I observe in you a natural dignity that cannot be learnt.  To me, ma'am, you are every inch a Queen."
In 1837, less than a month after her eighteenth birthday, Alexandrina Victoria – sheltered, small in stature, and female – became Queen of Great Britain and Ireland.  Many thought it was preposterous: Alexandrina – Drina to her family – had always been tightly controlled by her mother and her household, and was surely too unprepossessing to hold the throne.  Yet from the moment William IV died, the young Queen startled everyone: abandoning her hated first name in favor of Victoria; insisting, for the first time in her life, on sleeping in a room apart from her mother; resolute about meeting with her ministers alone.
One of those ministers, Lord Melbourne, became Victoria's private secretary.  Perhaps he might have become more than that, except everyone argued she was destined to marry her cousin, Prince Albert of Saxe-Coburg and Gotha.  But Victoria had met Albert as a child and found him stiff and critical: surely the last man she would want for a husband…
Drawing on Victoria's diaries as well as her own brilliant gifts for history and drama, Daisy Goodwin, author of the bestselling novels The American Heiress and The Fortune Hunter as well as creator and writer of the new PBS/Masterpiece drama Victoria, brings the young queen even more richly to life in this magnificent novel.
---